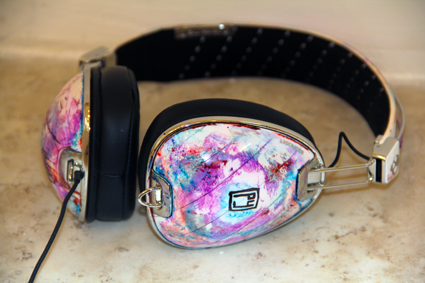 We caught up with Hongkong based artist Peter Yuill, who's custom Skullcandy Aviator headphone is an addition to the SDA 2012 tour. Find out more about the artist and his work "TIMES LIKE THESE":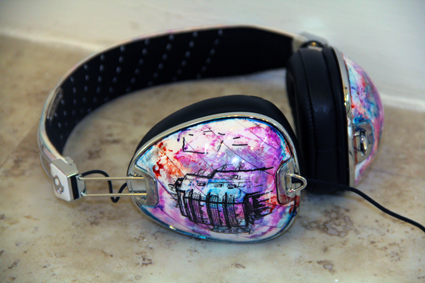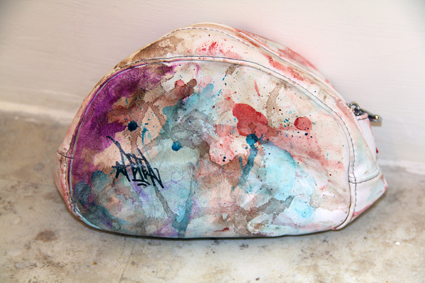 SKATE DECK ART / Q Please tell us more about yourself and your work !
PETER YUILL / A
I was born in and educated in Canada and have been living and working in Hong Kong for two years.
My work deals with the divinity of the machine, the role it plays in our lives and with the development of the human existence. I also explore the powerful and seductive nature of symbols, nationalism, and empire.
Q What is special about the collaboration with Skullcandy for SDA?
A This exhibition is a great opportunity for me to explore working with other mediums that I usually don't get to work with. Doing the piece on the skateboard deck was a great step outside the norm for me and I really enjoyed the unique challenges it had.
Q What is the inspiration for this particular artwork?
A My inspiration for this piece is the relationship of the British Empire to the development of Hongkong and the lasting impact it has had on the city. As well as how colonies like Hongkong helped to build the British Empire into the most power empire on the planet.
Q SDA is a unique concept and breaks down borders between boardsports, fine art and urban art. Tell us more about your contribution in the group show and how it influenced your creation for Skullcandy.
A Not only did I create a skateboard piece but I also customized a set of Skullcandy Aviator headphones. I tried to create a pearly glassy look but with a gritty studio vibe like they were an artists working headphones. I also drew on one of Hongkong signature Tong Lau buildings which always influence my work in one way or another.
ABOUT SDA 2012:
Core Power Asia and KickerClub are pleased to present CHALLENGE SKATEBOARDS SDA 2012 Skate Deck Art – customized collectibles presented by Skullcandy, an exhibition of unique functional art. Opening on May 18 at Voxfire Gallery in Hongkong and curated by Miriam Deller and Chris Keith, the show connects boardsports with art and design. In its third year, the exhibition tour has become an institution, challenging the concept of functional art by combining a selection of international artists and local voices with an unsurpassed program of showcasing art, live painting, skateboarding and music.
Artworks of emerging and well known artists, graffiti and urban artists, tattoo artists, athletes, collaborations between Japan & China, first time participants and Challenge Skateboards SDA veterans… all this and more can be seen during the CHALLENGE SKATEBOARDS SDA 2012 presented by Skullcandy exhibition tour.
In addition to these works CHALLENGE SKATEBOARDS SDA 2012 presented by Skullcandy will again present site-specific installations to represent a spectrum of artists from three continents, who's individual works blend the border between skateboarding and art; exploring new modes of experiencing a lifestyle while bringing the art to a wider public audience.
For further information please call (86) 150 1152 7797
or email us at skatedeckart@corepowerasia.com
For sales enquiries please get in touch with Francis Tan at Voxfire Gallery in Hongkong
+852-2581-3385 / Mobile +852-9096-4705
francis@voxfiregallery.com
A joint project by Core Power Asia and KickerClub
www.corepowerasia.com www.kickerclub.com