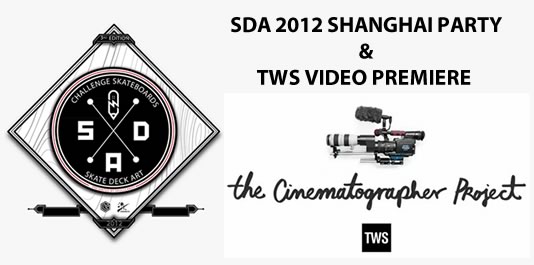 CATCH THE CHINA PREMIER OF TRANSWORLD SKATEBOARDING MAGAZINE'S "THE CINEMATOGRAPHER PROJECT" IN SHANGHAI ON JULY 25, 7pm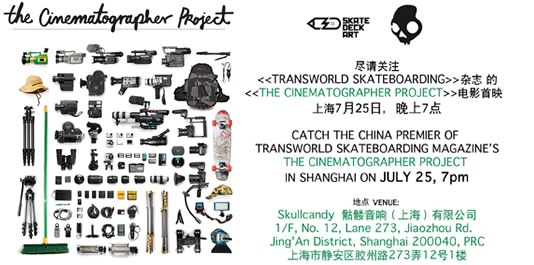 VENUE:
1/F, No. 12, Lane 273, Jiaozhou Rd.
Jing'An District, Shanghai 200040, PRC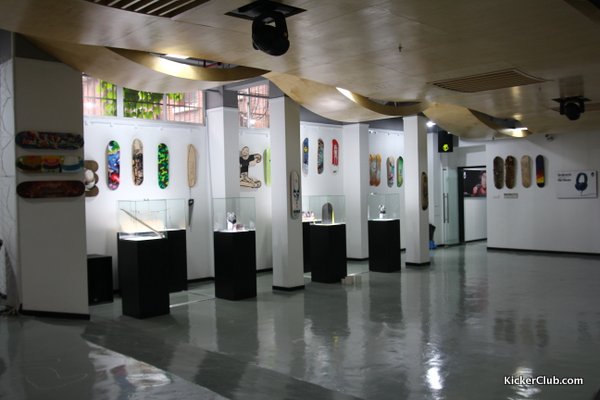 CHALLENGE SKATEBOARDS SDA 2012 presented by Skullcandy comprises of 34 artworks by 31 artists including ANDC, Maxime "S3" Archambault, CEET, Thierry Chow, ESOW, Matthew Faulkner, Wilfredo "Bio" Feliciano, Sonya Fu, GAS, Phil Hayes, janesnation, Jlee Ho Lam, Shann Larsson, Pierre-Étienne Massé, Mark Mi, NOISE, NOMATTSLAND, Pan Yulong and Wu Yirong, Miles "Mlo Tomtom" Pasick, Miguel Payano, Mark Ryan, SEVEN, Shen Jing Dong, Shigeru Ishihara and Wang Lei, Wang Si Jia, Wong Tinyan, Peter Yuill , Zhan Wei and 96k.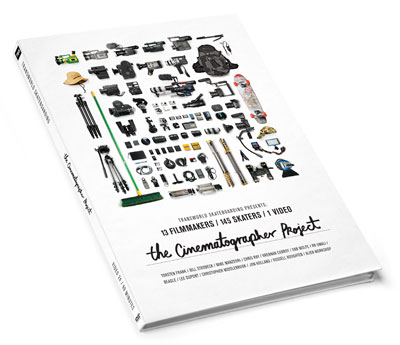 TransWorld SKATEboarding is proud to present our 24th video, The Cinematographer Project. They assembled 13 of skateboarding's finest filmmakers to each produce their own original three-to-five minute short. The result is a truly creative and diverse take on the current world of skateboarding.
CHALLENGE SKATEBOARDS SDA 2012 PRESENTED BY SKULLCANDY will again present site-specific installations to represent a spectrum of artists from three continents, who's individual works blend the border between skateboarding and art; exploring new modes of experiencing a lifestyle while bringing the art form to a wider public audience.
SDA published a full-color high-quality catalogue featuring images, contact information, and artist roster.
Download the catalogue at www.skatedeckart.com!
Thanks to our sponsors and supporters:
Challenge Skateboards – www.fdskateboarding.com
Skullcandy – www.skullcandy.com
Wabsono, Unique, Dragonsk8.com
IASC
Source Shanghai
S3 Studio
Boardzone.cn
Supporting Media:
Sports Illustrated China, Let's Magazine, What's Up Magazine
Chinaskateboards.cn, Niurenku.com, Creativehunt.com,
Radcollector, Artron.net, www.KickerClub.com, www.dragonsk8.com
For further information please call (86) 150 1152 7797
or email us at skatedeckart@corepowerasia.com
For sales enquiries please get in touch with Francis Tan at Voxfire Gallery in Hongkong
+852-9096-4705 / Mobile +852-9096-4705
francis@voxfiregallery.com
A joint project by Core Power Asia and KickerClub
www.corepowerasia.com www.kickerclub.com
Beer sponsor