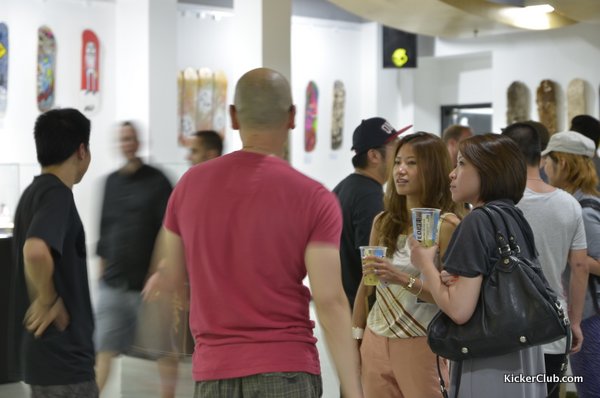 CHALLENGE SKATEBOARDS SDA 2012 Skate Deck Art – customized collectibles presented by Skullcandy. Shanghai Party & TWS "THE CINEMATOGRAPHER PROJECT" premiere party – Skullcandy Office, July 25.


Skullcandy Shanghai Office hosted SDA's Shanghai Party & Transworld Skateboarding "THE CINEMATOGRAPHER PROJECT" premiere party on the evenings of July 25.
Many art lovers, skaters and action sports industry friends started arriving around 6:30 pm. With the hors d'oeuvres and drinks provided by SDA, people enjoyed a relaxing time looking at the skate art decks. In addition, there were some people skating Skullcandy's mini ramp.
At 9 O'clock, Andrew Guan from Kickerclub and Skullcandy's marketing manager Elijah Kislevitz did a raffle for various prizes. Many thanks for Transworld Skateboarding for providing the "THE CINEMATOGRAPHER PROJECT" Blu-ray disc and Skullcandy for providing the headphones.
After the raffle we had a showing of "The Cinematographer Project", which was an awesome finish to a great night of the SDA Shanghai party.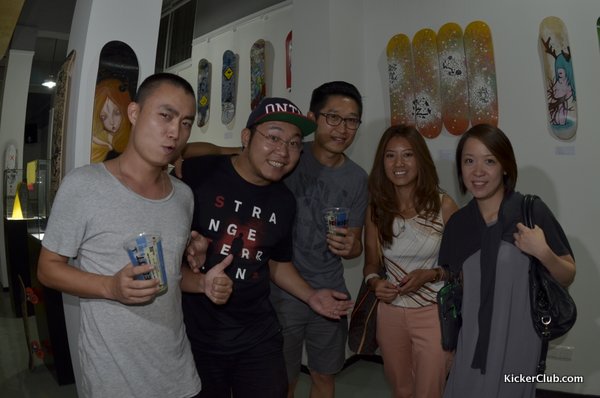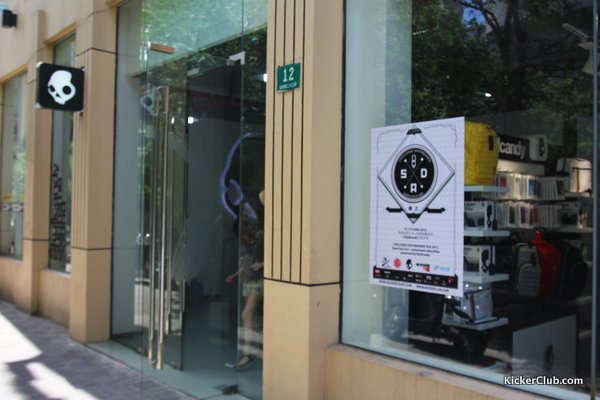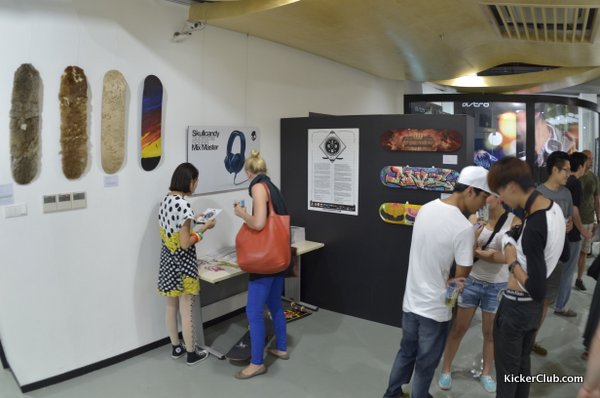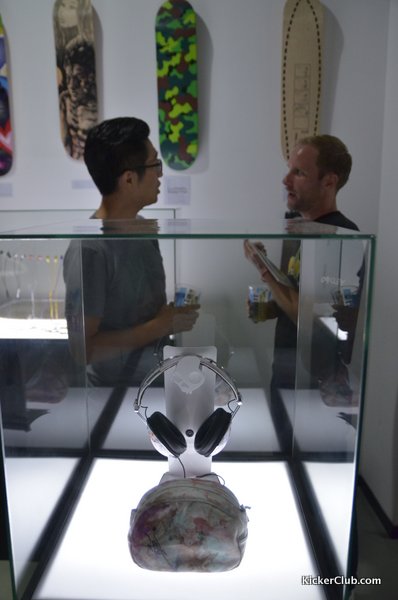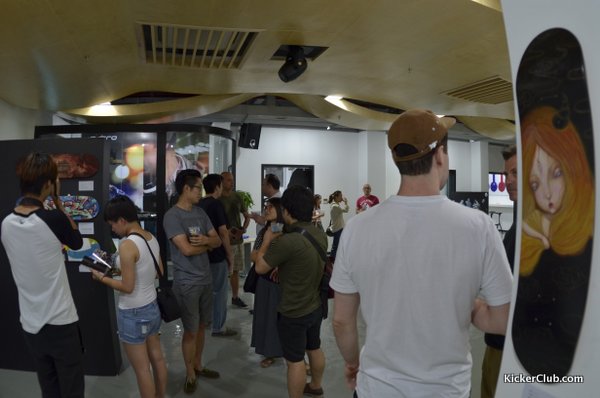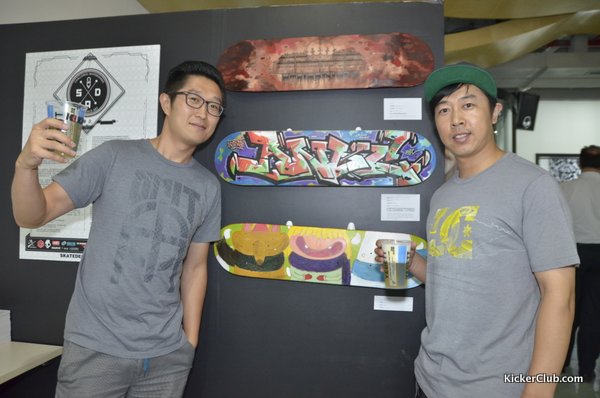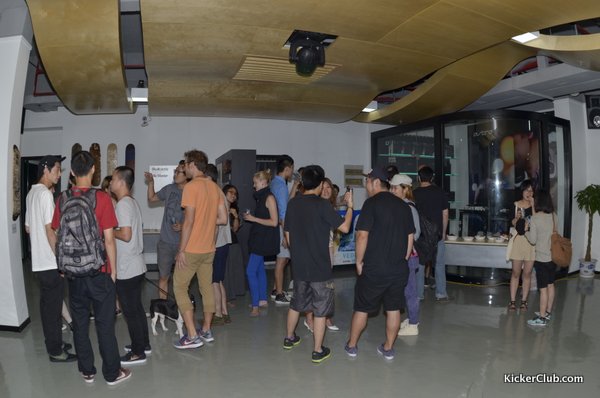 CHALLENGE SKATEBOARDS SDA 2012 presented by Skullcandy comprises of 34 artworks by 31 artists including ANDC, Maxime "S3" Archambault, CEET, Thierry Chow, ESOW, Matthew Faulkner, Wilfredo "Bio" Feliciano, Sonya Fu, GAS, Phil Hayes, janesnation, Jlee Ho Lam, Shann Larsson, Pierre-Étienne Massé, Mark Mi, NOISE, NOMATTSLAND, Pan Yulong and Wu Yirong, Miles "Mlo Tomtom" Pasick, Miguel Payano, Mark Ryan, SEVEN, Shen Jing Dong, Shigeru Ishihara and Wang Lei, Wang Si Jia, Wong Tinyan, Peter Yuill , Zhan Wei and 96k.
Still to come:
HISO Fashion & Art Exhibition Beijing, October 1-7, Surfing China Festival Hangzhou, October 2-4, China X Games Finals Beijing, October 18-21, Source Shanghai, November 2-16.
SDA published a full-color high-quality catalogue featuring images, contact information, and artist roster.
Download the catalogue at www.skatedeckart.com!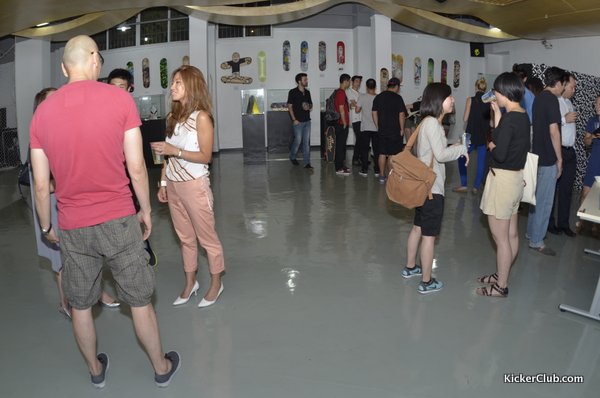 Thanks to our sponsors and supporters:
Challenge Skateboards – www.fdskateboarding.com
Skullcandy – www.skullcandy.com
Wabsono, Unique, Dragonsk8.com
IASC
Source Shanghai – www.thesource.cn
S3 Studio
Boardzone.cn
Supporting Media:
Sports Illustrated China, Let's Magazine, What's Up Magazine
Chinaskateboards.cn, Niurenku.com, Creativehunt.com,
Radcollector, Artron.net, www.KickerClub.com, www.dragonsk8.com
For further information please call (86) 150 1152 7797
or email us at skatedeckart@corepowerasia.com
For sales enquiries please get in touch with Francis Tan at Voxfire Gallery in Hongkong
+852-2581-3385 / Mobile +852-9096-4705
francis@voxfiregallery.com
A joint project by Core Power Asia and KickerClub
www.corepowerasia.com www.kickerclub.com