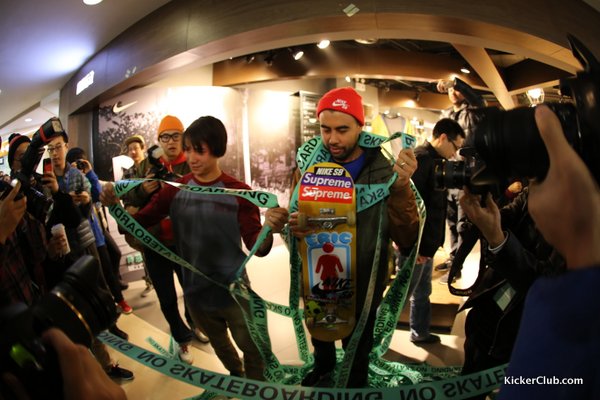 Jan. 29 marked a big milestone for Nike Action Sports in China, as the brand opened its first action sports-specific store in Beijing. The store is located on the fifth floor of Joy City shopping center in the Xidan district, the heart of the city's skateboarding community. At 110 square meters, it's Nike's largest action sports store in Greater China. Shoppers will find a full range of the latest Nike action sports footwear and apparel.
"Skateboarding is growing quickly in China, and there are many fans of the sport in the Xidan area," said Jason Zhu, GM, Nike Action Sports in Greater China. "We chose this location to be closer to the skate communities. Many top athletes are already fans of Nike Skateboarding, and the new store will continue to bring Chinese skaters the most advanced products and best services available."
Nike Skateboarding athletes Eric Koston and Sean Malto attended the opening ceremony and were joined by members of the Nike Skateboarding China team, including top Chinese skateboarder Che Lin as well as Boss Xie, Jeremy Hu, Daniel Jason Leung, Didi Liu and Hu Jinchen. The athletes answered questions from fans, and Koston showed off the second generation of his signature shoe – the Koston 2. Featuring Lunarlon cushioning and enhanced breathability, durability and fit, the Koston 2 will be available in early April.
The store mixes unique, artistic elements as well as cultural influences from the city itself to create an authentic, inviting space for the skate community. A table with tools is available for customers to fix their boards, and videos and photos help bring the sport to life throughout the store. Famed Beijing graffiti artist Li Qiuqiu created a unique painting in the store inspired by Nike SB athletes Koston, Paul Rodriguez, Omar Salazar and Che Lin. Brick walls and graffiti manhole covers add strong local flavor to the modern space. Members of the Nike SB team plan to visit the store regularly interact with skate fans.