If you know me, you would know that I am a Fugazi freak. I found Fugazi and Minor Threat back when I was 14 and a little skate rat! Recently, Atiba Jefferson had a chance to sit down with Ian MacKaye for an interview in the May 2010 issue of The Skateboard Mag. It's a great article about Ian's history and knowledge of skateboarding which included brief stints of skateboarding with Henry Rollins. The only thing I am bummed about is that Atiba didn't ask him what i really want to know…when is this fucking hiatus of Fugazi going to end? It's been too long now and I am sick of being in the Waiting Room (pun intended). Read the article below as well as a few classic Fugazi clips from shows for your viewing pleasure!
IAN MACKAYE interviewed by Atiba Jefferson for The Skateboard Mag
How do you introduce Ian MacKaye? His lyrics have made an impact on my life and millions of others. Minor Threat and Fugazi songs have been in countless skate videos—the proceeds of which have all gone to charity. But if another band in the video was in for free, so were they. MacKaye is a true example of keepin' it real.
I'd need a whole book to explain how complex yet simple he is—a bro of Ed Templeton and one of the nicest people I have met—allow me to introduce you to Ian MacKaye. The skater.
What's the story with you and Henry Rollins skating together as kids?
We met when I was eleven, he was twelve. This would have been in 1973 or '74. Shortly after that, my family went to California for nine months. My father got a fellowship at Stanford University in Palo Alto. While out there I got into BMX, which was just starting to become somewhat organized as a sport. Me and my friends in DC had been jumping bikes and riding around in the woods, but this was taking it to a new level. When I got home, my bike buddies said, "We got skateboards now." I had had a skateboard before—a Shark. A little wooden deck with clay wheels—but these new boards had loose-ball urethane wheels. An excellent ride! We mostly did downhill, but we did a thing called dog fighting that was basically trying to knock people off their board while riding downhill.
Anyway, when I was out of town, my friends had gotten into some scrap with Henry. So when I got back I was essentially guilty by association. There was beef! He was chasing us all over the place. So I thought, "Fuck that guy, just stay away from him."
One day we were building a little ramp in the alley behind my family's house on Beecher Street, and we saw Henry riding by on a skateboard. Our initial reaction was something along the lines of "Oh, great. Now that fucking kid is skateboarding, too." He saw us and just kept going, but a few minutes later he came back and asked if he could ride the ramp. We've been best friends ever since.
How old were you guys?
He was fourteen … no, maybe thirteen even. Henry was the person who really turned me on to Skateboarder magazine and a lot of music.
Did you ever take a skate trip?
We took a bus out to California in 1978.
So wait, you and Henry Rollins?
Yeah. Took a Greyhound bus. We skated Winchester and the original Upland park. We also made it to the Hester Pro-Bowl Contest at Big O. We got to see almost all of the skaters we had been looking at in the magazine. Seeing Jay Adams in real life was mind blowing! He was a monster
So did you meet those skaters?
We spoke with Peralta in the parking lot. He was nice to us, but we were just fan kids. I think he might have given us some stickers or something. We were pretty intimidated by everyone else.
When did you first notice, or even if back then, skaters listening to your music?
In 1980 the Teen Idles came out to California, and we did two shows. We took a Greyhound bus, just like the skateboard trip. We did one show in LA and one show in San Francisco. Henry was our roadie. In San Francisco, we were supposed to be opening for the Circle Jerks and the Dead Kennedys, but the guy who ran the venue dropped us from the bill because he thought we had a stupid-looking photo. Of course, he failed to tell us about his decision, so we were crushed when we arrived. He ended up putting us on the next night and we went to the DKs show. It was incredible. The Circle Jerks had brought up a huge crew of kids from LA. A bunch of HB punks including Tony Alva. We were blown away to meet one of our skate heroes in this other world.
All of those kids were super radical and their intensity really left a mark on us. They all came to our show, which was crazy. We had been added to a New Wave night and there was no one in the audience for the other bands. When we started playing, all of those HB kids came rushing in and chaos followed. If you talk to Alva, he'll tell about that meeting. I think those kids were pretty psyched to meet up with DC punks.
Another unlikely meeting occurred when Minor Threat came to LA for the first time. It was 1982, and we were playing a club called Dancing Waters in San Pedro. While we were playing, there was a guy in the front row just going off. At some point I leaned down to give the microphone to people to sing, and this kid bit me on the arm. So I punched him.
After the gig, I was telling someone about what happened and he said, "That was Jay Adams." I couldn't believe it! I ran out into the room looking for him and sure enough it was Adams. I said, "Sorry I hit you, but you bit me!" He said, "Yeah, that was fucking awesome!" It's amazing to have not only been bitten by Adams, but to have punched him and not gotten punched back.
The skating thing was and is pretty serious for me, but I never really considered Minor Threat a skate band. I certainly wasn't trying to pimp that connection. The one thing that I think probably caught skaters' eyes was the fact that I wore Vans. It wasn't necessarily a statement, mostly they just happened to be the shoes I had on my feet at the time, but there was a bit of a secret code in place. At that time Vans was still a fairly tiny operation and you didn't see a lot of those shoes, at least not on the East Coast. It made it easy to identify fellow skaters, and by the mid-80s I think that you saw a lot of American punk kids wearing them, as well.
Since you've ridden a skateboard, is there something that you see similar in making music?
I don't really compare the two things, but I suppose that skating really helped develop my balance and reflexes. Skating definitely taught me how not to fall. Having said that, I've certainly eaten shit plenty of times on stage as well as skating.
What I can say about skateboarding is that I really learned how to reassign properties to the world around me. This was not a conscious practice, but still it was occurring. Suddenly the weather means something completely different to you. Swimming pools take on a new potential reality. You're not just taking a swim anymore. If you go into a parking lot and there's a little bank on the side of it, you make a mental note of it. The surface of the streets, are they rough or smooth? There are any number of lines that you start to see.
I think when skaters walk down the street, they're looking at it with an entirely different grid in their minds. I think this practice enabled me to redefine the world around me—to take what was given and then readjust it to make it work. When I got into music, specifically punk rock, that sort of redefinition was central. I would look at a situation, the circumstances that had been presented, and think, "Okay, I'm just going to change all of this, or at least change the way I'm thinking about it." I come at things from a different place, and I think that's something I really developed through skating.
To this day I swim to the bottom of swimming pools just to check out the transition. It just feels good; it makes me think about how nice it would be to ride.
One last thing—and I'll be straight up about this—I was never a great skater, but I rode and I don't think that experience will ever leave me. Whether or not I step on a board again, a part of me will always be a skateboarder.


Long Division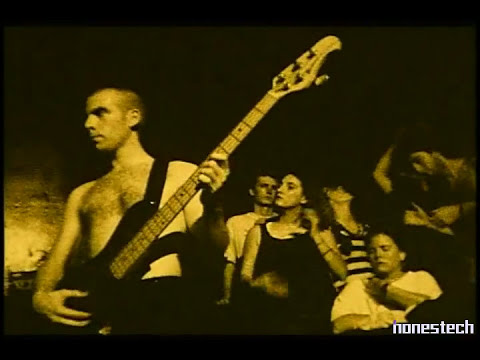 Slo Crostic
- JONES