Recently I got to catch the Brasil Summerfest at Central Park Summer Stage. The Brasil Summerfest is an annual event that takes place throughout New York city exposing audiences to some of Brazil's emerging talent. It's a yearly event that I always make top of my summer to do list. Last year I caught up with Criolo and Flavio Renegado. This year Planet Hemp and Emcida headlined at Summer Stage. I would like to say First I'm a HUGE Hip Hop fan, and I love a lot of things about Brazil, and to follow the Brazilian Hip Hop scene is VERY reminiscent of the Golden Era of Hip Hop that happened 1979 – 1996 in America. Right now Hip Hop in Brazil has a lot to say. Backed with amazing production that can stand up to any American produced Hip Hop track, and lyrics that tackle everyday life in Brazil. So I got to catch up with one of Sao Paulo, Brazil's illest emcees Emicida, and my Brasileiro homie Alysson Castro on deck to help with the interview!
(from left to right: Deka, Emicida, Alysson )
How Long have you been involved with Hip-Hop and what made you want to become MC?
I can say that I have been involved in Hip-Hop since birth because I was born in the "Baile" culture and DJ Culture. My dad was a DJ back then and I started to fall in love with hip-hop little by little until 1995 to 97 when I realized that was something I wanted to do not even knowing what Hip-Hop really was and realized that I was already in the movement.
Do other Hip-Hop musicians, American or Brazilian, inspire you? If so, who?
Of course. I could give you a huge list of artist, but the main ones that inspired me that I can say from Brazil: Racionais Mc's, Taide e DJ Um, SP Funk, De menos Crime, Conciencia humana and Marcelo D2. From the US, -Oh man… (Smiles) I would say: KRS-One, I like Jay-Z too, MOS-DEF, Talib Kweli, Dilated Peoples, Rakim… I have also an enormous list of the masters like, Public Enemy and many more…
(from left to right: DJ Nyack, Deka )
I hear that you can freestyle, Is it something popular in Brazil that the MC's would battle just like in America?
This is not something we started, freestyle battles has being happening for a long time. There were a group of people called "Academia Brasileira de Rimas" (Brazilian Academy of Rhymes),also the people from SP Funk and a group from Diadema (Suburb of Sao Paulo) that battled frequently. In Rio de Janeiro already existed a very strong tradition for freestyle and battles, but for the past 10 years it became very popular.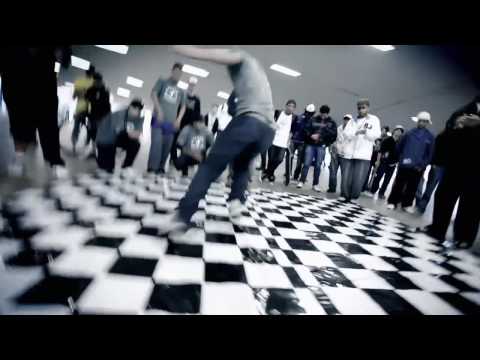 (Emicida going in with dope videos too! )
How does if feel to perform at the birthplace of Hip-Hop?
It's an honor to me before anything.And just by being here walking around on the streets. I think this is the second time I stayed in Manhattan. I've stayed in Brooklyn, Harlem, at the Bronx and also stayed at my friend's house in Queens. I had the honor to walk everywhere Hip-Hop has touched, I looked at the graffiti on the walls, and being around street artists and getting inspired by them.
How many times have you been here?
This is my fourth time.
Do you include other forms of music of what you do like samba, pagode or any style that influence your sound? I'm asking because I've heard something like it in your performance.
I like to use instruments that is part of the everyday sound of Brazil that are characteristic of Brazilian music in a way that doesn't feel like folklore or marketing gimmick. We use in a way that show the essence of our culture and that has a real function in the sound and not just to be there for marketing purpose. And of course we all grew up in the middle of the Samba culture. I'm from "zona Norte"(Zone North) Sao Paulo, that has the majority of Samba Schools in the city. So samba influence is inevitable because of that.
(Sao Paulo was in the house reppin! )
I remember that once I saw an article with Ice-T when he came to Brazil and walked around the hood and was amazed on what he saw. He said that if Hip-hop was never born in the US, it would definitely be born in Brazil!

I believe that the hip-hop was born from a dude that went to Brazil and fell in love with the Rhythms and came back inspired! (Laughs)
I feel that Sao Paulo is the twin city for Hip-Hop in the world when I visit Because it reminds me the 1992 era when people had something to say.
This is the truest reading of Brazilian hip-hop scene that you can say. Right now Hip-hop in Brazil feels like America's 1992 era. So many people with so much to say with open minds to all other music's influence. And all the prejudice to Hip-hop starting to shrink not only in Brazil but all over the world.
How is the acceptance and the notion of Hip-hop in Brazil, meaning, from the majority of population and mass media?
Brazil is a country that is still extremely racist, but people try to hide it. Because of the commercialism and the natural evolution of Hip-hop, Hip-hop is coming out from obscurity. And because of that, racism also comes out of obscurity. Some people show discomfort in seeing black people getting out of the favelas, having a successful life and etc. So, it's like the same thing that happened here in America a long time ago.
(Planet Hemp: Marcelo D2, B Negao )
But it's getting more acceptance, right?
Sure, I believe that outside people from Hip-Hop are opening their minds and starting to understand the musical value and the true artistic expression of our music. But Hip-Hop in Brazil has been around for around 30 years and all these years Hip-Hop has suffered suppression but never died and today we can look and say that it wasn't a fad, it survived and it will never die.
•(Alysson) I grew up in Brazil but live here for 16 years and I come from skateboarding since then.I listened a lot of Brazilian Hip-Hop but it was something very underground and had not media attention at all. At that time, you could only see the women from pagode shaking their ass on TV. It's interesting now that the Brazilian media is gradually becoming interested and accepting Hip-Hop.
It's because now Hip-Hop is generating money! (laughs) Then the media become very aware and try to get involved.
So, does skateboarding have any influence in your life and career?
I love skateboarding, I am a big fan of skateboarding and I realized that I'm a fan when I met Bob Burnquist. All of sudden I got supper nervous around him!(Laughs) But I'm not too good when it comes to actually skate. I do roll around on a longboard here and there,but I'm not too comfortable on it! (Laughs). My second sport that I got into it had had no problems was BMX! (Laughs).
The cool thing about skateboarding is that it goes hand in hand with Hip-Hop…
It's street culture! That's why. Hip-Hop and skateboarding are like brothers!