Oh the power of social media. What I thought to be a humorous Instagram & Twitter post, very quickly turned into a viral (that word is horrible I know) celebrity news story. For those of you who don't pay attention to celebrity gossip… I shot a photo of my friend Lany Morrison with Twilight stars Robert Pattinson & Kristen Stewart since they happened to be hanging out at the same bar I was at with my friends on a Tuesday. Little did I know that photo was going to spread like wildfire across every entertainment media site around the world.
First of all, I have never even seen any of the Twilight movies… and I only recognized "Robsten" because you would have to be living under a rock to at least not know what they look like. With that being said, I definitely don't pay attention to celebrity gossip. I didn't know that these two were ever a couple… much less that they had been supposedly broken up and my photo was going to be the first proof in two months that they had even seen eachother in person. Had I known that there was so much media hype built around these two, I probably wouldn't have even asked them if I could take a picture, with the fear of making them feel uncomfortable and skeptical of my intentions. I almost didn't even post the image, thinking that it would be corny to blast out a "celebrity sighting". However, after posting the photo I quickly realized how diehard their fan base is and in turn, how hungry the media was for any dirt on these two. It's funny that I have been shooting photos for years and now my most publicized one is a blurry pic I took with an iPhone.
Within minutes the photo had been shared thousands of times on twitter, causing the tag "#robsten" to trend worldwide, and "liked" hundreds of times on Instagram. I was bombarded by tweets from fans asking me every little detail of what I saw, and e-mails & phone calls from every media outlet from People, to E!, to Perez Hilton, to US Weekly asking me the same questions. I had to turn all notifications off on my phone because I thought it was going to overheat from vibrating so much. Due to not wanting to cause drama and the Twitter character limit, I was vague in my answers giving responses like, "I just ran into them at a karaoke bar by my house… mellow night. They were just there hanging out with a few friends." And avoided questions that I knew would just foster rumors like if Kristen was pregnant, or if there was any PDA going on. I responded to those saying that I wasn't paying close enough attention to give an honest answer… because that was the truth. They were just normal people hanging out at a bar trying to enjoy themselves, I wasn't going to be all googly-eyed watching their every move. Quickly my words were twisted and assumptions had been made that these two were "officially back together" just because they were posing in a picture together.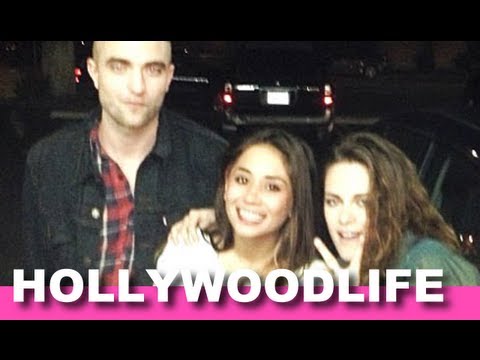 I feel weird having caused such a huge uproar in celebrity gossip, so to set the record straight this is exactly what I saw that night. My friend Lany spotted Robert & Kristen with two other friends (one guy one girl) while we were standing outside our small, local karaoke dive bar, Ye Rustic Inn. Lany is a fan so she told me she thought it would be cool to get a photo with them. Being a photographer and used to approaching people for photos, so I walked up to them and asked if I could take a photo of them with Lany using my iPhone. Kristen was enthusiastic about it, putting her arm around Lany and cracking a smile… however Robert wasn't keen on the idea… jokingly trying to get me to take the photo with his back to the camera. Kristen told him to stop being an asshole and the result is the photo that spread like wildfire. After I shot the photo everyone headed into the bar and their group went straight into a booth in the back so they could have at least some privacy. From then on I mostly minded my own business. Occasionally I would glace over and their crew would be laughing or joking around with the bartender that was bringing drinks to their table… and their guy friend that was with them sang one karaoke song but "Robsten" never got on the mic. Once the bar closed around 2 everyone shuffled out and as I was biking home I saw their crew hanging around a truck talking, ready to leave to wherever they were going next. Yes they seemed to be enjoying eachother's company, yes Kristen Stewart is capable of smiling, yes they were sitting next to eachother in a booth… but none of which is clear evidence that Robert and Kristen are "officially back together"… even if my friend Lany told press that she had her hand on his back. But who knows, maybe they were never even broken up in the first place and it was just a story the media dreamed up since Robert was out of the country filming for a movie.
I guess I'm writing this because the 24 hours of dealing with all the fans and media was basically an interesting social experiment to me… I got to sit front row at a circus and watch and be involved in the craziness that ensued. On one hand it was insane to see how obsessed fans were about every single detail on "Robsten"… seemingly living their lives vicariously through a celebrity. But on the other hand it was entertaining to see how the media will take the smallest little thing, basically create a back story off of limited information, and run with it just to stir the pot. Most of which didn't even contact me for details, just basing the story and quotes around a few tweets I sent out. And in turn I watched all these hyper-fans eat up every little detail the media put out, and even imagine up their own more elaborate story of what happened that night based on the little information the media gave out. This unexpected "experience", I guess you could call it, has given me a brief glance at what some celebrities have to deal with on a regular basis… and to be honest, it's a little scary.