The 28th U.S. Open of Snowboarding Championships up at Stratton, VT this past weekend was another one for the history books.
Amazing weather, good peoples and next level riding guaranteed another memorable East Coast snow bash!
Big congrats to the riders and all who made this possible!!
There were too many good times to write about so we wanted to bring you there with some images of the action that went down after the jump…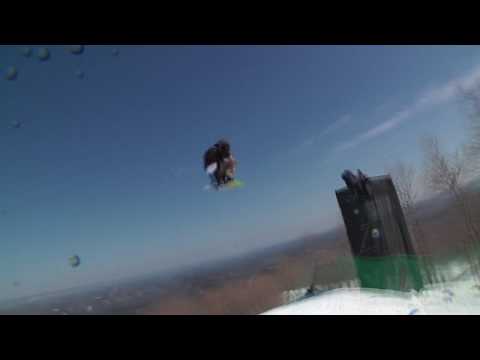 Mikkel Bang out of Norway scored a major win in slopestyle with a pretty insane run consisting of a switch front board to revert, front board 180 out, Cab 1080, switch backside 1260 Indy, frontside 1080, and a gap front board to fakie shifty!! Bang beat out fellow Norwegian shredder Ulrik Badertscher and Canadian Seb "Toots" Toutant for the $20G's!!

Kazuhiro "KAZU" Kokubo soaring above the crowds for an impressive 1st place win.

Louie Vito executed another triple double run to a lock down a 2nd place victory even though some are questioning how this dude didn't clinch 1st place with a run like that.

Happy B-Day kid and keep reppin!

I-Pod killed his run with one of the smoothest and biggest double McTwist 12's in the game!


Champion status!

Party time for the ladies! 1st place Kelly Clark, 2nd place Kaitlyn Farrington and 3rd place Ellery Hollingsworth!

Stratton's own, Jack Mitrani, hiking up the pipe he used to call home…

Poaching with style!!


Kevin Pearce, without a doubt, had the most presence at the Open this year which only shows how much his FRENDS really care about him!
After all riding with your friends is what snowboarding is all about..isn't it???